The 1960s features three NCAA All-Americans and five NBA Draft picks a very solid decade. Seven of the ten stayed in the state of Kentucky. Western Kentucky, Louisville and Kentucky each signed two from this decade. Kentucky Wesleyan signed its second and final Kentucky Mr. Basketball. Duke, Florida State and Army each signed their first and only Kentucky Mr. Basketball.
Jeff Mullins, Wes Unseld, Butch Beard, Mike Silliman and Jim McDaniels all enjoyed rather successful NBA careers including 10 NBA/ABA All-Star selections, 3 NBA Chamionships, 1 Rookie of the Year, 1 Finals MVP and 1 Regular Season MVP.
------------------------------------------------------------------------------------------------------------
1960: Jeff Mullins (Lafayette)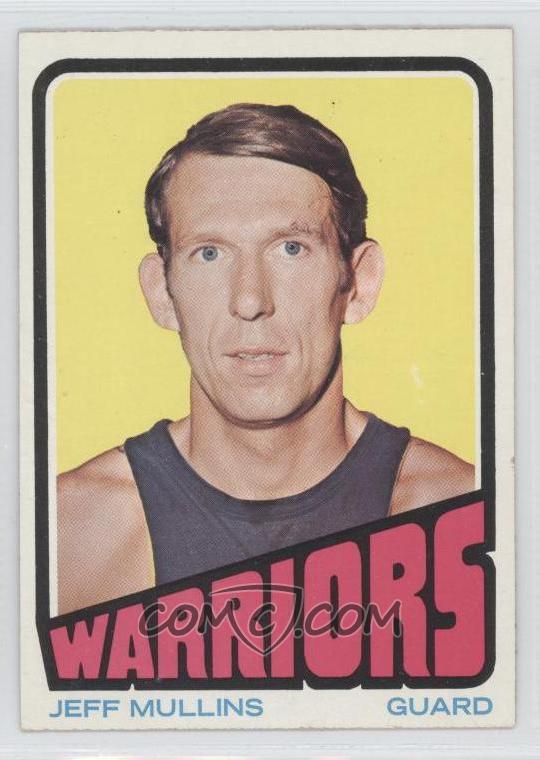 Jeff Mullins played at Lafayette high school and signed with the Duke Blue Devils after winning Kentucky's Mr. Basketball award. Mullins would average 21.9 points per game over his career at Duke. In his enior year Mullins was named ACC player of the year and athlete of the year as well as being named an NCAA second team all-american. Mullins was drafted 5th overall by the St. Louis Hawks. However, he would play much better once he landed with the Golden State Warriors. As a warrior he was named an NBA All-star three times and helped them win a NBA championship in 1975. Mullins would later go on to coach the UNC Charlotte 49ers for 11 years between 1985-1996.
1961: Randy Embry (Owensboro)
Randy Embry played four seasons at Kentucky (both basketball and baseball) after being named Kentucky's Mr. Basketball in 1961. He averaged nearly 6.0 points per game, nearly 2.0 rebounds per game and 1.0 assist per game. Embry would go on to coach baseball at Daviess County winning a state championship in 1971. He also coached Owensboro High school basketball from 1980-1999. Currently he serves as a regional scout for the Miami Heat and former teammate Pat Riley.
1962: Mike Silliman (St. Xavier)
After leading St. Xavier to a state championship in 1962 Silliman was named Kentucky Mr. Basketball. He chose to continue his career at the Army Academy at West Point. Silliman played basketball four years at the academy and is the 10th leading scorer all-time. He was named an all-american three times and Coach Bobby Knight called him "the best player he ever coached." Silliman was also a standout baseball player and lettered three years for Coach Eric Tipton. Silliman also captained the Team USA basketball squad that won a gold medal in the 1968 olympic games. Silliman died of an apparent heart attack in June 16th, 2000.
1963: Mike R. Redd (Seneca)
Mike Redd was named all-state three times at Seneca and helped lead them to a state championship in 1963. He was thus named Kentucky Mr. Basketball and chose to attend Kentucky Wesleyan. Redd lead Kentucky Wesleyan to a third place finish in the 1994 NCAA division II basketball tournament. Redd would go on to be drafted in the 5th round of the 1967 NBA Draft. Redd served with the Marines and won two AAU Men's National Basketball Championships with them. Redd died December 15th, 2007.
1964: Wes Unseld (Seneca)

Probably had the most successful professional career of any Kentucky basketball player. His list of accolades include:
2 state championships
Mr. Kentucky Basketball
NBA MVP
NBA Finals MVP
NBA Champion
Double double average in college
5 times NBA All-Star
2 time consensus NCAA First Team All-American
Attended and graduated from the University of Louisville before being drafted third in the 1968 ABA Draft and second in the 1968 NBA Draft. His #41 was retired by the Washington Bullets. He moved into a front office position with the Bullets after his NBA career ended from 1981-1996. Currently Wes and his wife Connie run the private coed Unselds school in Baltimore, MD.
1965: Butch Beard (Breckinridge County)
Alfred "Butch" Beard led his Breckinridge County team to back-to-back state championships losing to Wes Unseld's Seneca team in 1964 and winning in 1965. After leading his team to a state title Beard was named Kentucky Mr. Basketball. Beard would go on to star at the University of Louisville, where he's 16th all-time in scoring at UofL. He also had his jersey retired by the university. Beard was later drafted by the Atlanta Hawks and also played for five other teams. He was named an NBA All-Star in 1972 and was on the same NBA championship teams as Jeff Mullins in 1975. He later coached both the New Jersey Nets from 1994-1996 and the Morgan State Bears from 2001-2006.
1966: Mike Casey (Shelby County)
Mike Casey is the fifth Kentucky Mr. Basketball in a row to have also led his team to a state championship. Casey led his Shelby County team to victory in the championship game, 72-67 over Louisville Male. Casey would go on to star at the University of Kentucky where he averaged 18.79 points per game and 6.8 rebounds per game in three seasons. He was drafted in the 8th round of the 1970 NBA Draft but chose to play the 1970-1971 season at UK and never played in the NBA. Casey died on April 9th, 2009 after a long bout with heart complications.
1967: Jim McDaniels (Allen Couny)
McDaniels is widely considered the best player to ever put on a Western Kentucky jersey. His #44 is retired and he led the Hilltoppers to first and only Final Four appearance and nearly led them to a national title. McDaniels also played 10 years professionally in the NBA, ABA and overseas. McDaniels is currently a part of WKU's Alumni Staff, he also participates in volunteer work and runs basketball camps for kids.
1968: Terry Davis (Shelby County)
(Terry Davis second from right with daughter Dee Dee Davis)
Terry Davis holds several scoring records for the boys state tournament, he also led the state in scoring his senior year averaging 35.4 points per game. Davis also played on the 1971 Western Kentucky team that went to the NCAA Final Four. Davis is currently a farmer living in Kentucky.
1969: Ron King (Central)
Ron King of Central high school poured in 44 points as his Central HS team beat Ohio County 101-72. King and fellow Central teammate Otto Petty helped lead Florida State to the 1972 NCAA national championship title game. King was name to two All-American teams that season. He was drafted in the 4th round of the 1973 NBA Draft. However, King ended up in the ABA with the Kentucky Colonels, playing 9 games and averaging 7.1 points per game.
------------------------------------------------------------------------------------------------------------
Links to Other Decades:
2010s